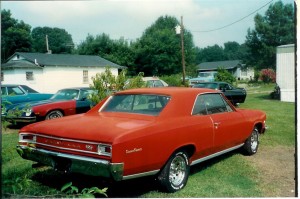 My first Car.
The 1966 Chevelle SS 396 was purchased in December, 1986 in Holly Ridge, North Carolina. I have traced the car back to the second owner of the car and spoke with several pervious owners of the car. The car was purchased new in Virginia and is a "no frills" SS car with a 325 HP Turbo-Jet 396 and a 4 Speed.
All Chevy Chevelle SS 396 models (13817 and 13867) included special lower body trim, dual-louvered hood and SS396 badges. All SS 396 series came standard with a 396/325hp engine, heavy duty, full synchromesh 3-speed floor shifted transmission and front bench seat. Bucket seats, consoles, 4-speed manual transmission and the Powerglide automatic transmission were optional equipment.
My Chevelle was manufactured the 3rd week of February 1966 and was the 24,266th 66 Chevelle produced at the Atlanta assembly plant.
The Lakewood Assembly plant closed its doors on August 6, 1990.  At the time of its demolition some years later, Lakewood was a 2,600,000-square-foot (242,000 m2) facility.