Category Archives:
Chevelle Restoration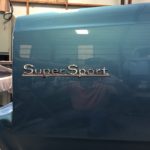 Finally! Installing trim parts on body – July 2019.
Finally got the 66 Chevelle SS on the Rotisserie so the under body could be painted. All interior black has also been painted. All body work complete … ready for body paint.
July 2017  After moving the Chassis around the shop for almost 4 years is was in need of a redo …..  Disassembled and re-painted.
Another Block Sand … it seems like the process never ends …..
The next to last block sand and prime.
In November 2015 assembly and fitting of the body panels were underway.   Time was taken to  mock up each panel  after the metal work was finished.  By doing this the panel fit and alignment can be fine tuned.    Once everything fits correctly, the
In June 2015 we finally got around to block sanding the 66 Chevelle.  The
Skim Coating involves spreading a layer of body filler over the entire car to ensure that when you paint it, it's smooth and there are no gaps or holes.  Blocking is the way you smooth minor surface waves and imperfections,